We are days away from the final season of Game of Thrones; one of the greatest shows of all-time!  In preparation for the season premiere on April 14th, we are looking back at the first seven seasons and making lists about…everything!Today, we are looking at best performances in Game of Thrones…
One of the most amazing things about Game of Thrones is that almost everyone brings their A-game in the acting department.  All too often, genre shows borrow from the Shatner School of Acting and bring the ham and cheese.  Since everyone is so amazing, the competition is fierce for the title of Best Performer.  Who wins THIS Game of Thrones?  Here's a surprise:  It's NOT Peter Dinklage.
(Note: This is an adaptation of an article I wrote a couple of years ago.  I have updated it ranking all the actors who had principle roles as defined by the series' credits.  If I left off The Red Viper or the Queen of Thorns, it is because they are guest stars)
Let's do it!
WEAK PERFORMANCES
43 . Shae (Portrayed By: Sibel Kekilli )
Hot Take:  Not a knock on her former profession, but there is a reason porn stars don't often crossover into mainstream roles.
42 . Catelyn Stark (Portrayed By: Michelle Fairley )
Hot Take:  This is the ultimate chicken and egg situation:  is the character bad because the performer is weak or was the performer weak because of a bad character.  I think here, it is both.  You could always tell she was acting… and not well…
MEDIOCRE PERFORMANCES
41 . Sansa Stark (Portrayed By: Sophie Turner )
Hot Take:  God help us with the new X-Men movie where Sophie Turner has to carry the emotional center of the film.  She was fine when she was a kid acting "whoa is me" in the early seasons, but when she grew up and her role took on more mature undertones, she faltered greatly.
40 . Daenerys Targaryen (Portrayed By: Emilia Clarke )
Hot Take:  Her storylines are amazing, and when she is being vulnerable or happy, things are fine.  But when she needs to show power or resolve, it reveals how weak of an actress Emilia Clarke is.  This has become more glaring as she has built power, moved to Westeros and started burning people.
39 . Gendry (Portrayed By: Joe Dempsie )
Hot Take:  The dude shouts ever line as if he was nervous and just wants it to be the other actor's turn.
38 . Viserys Targaryen (Portrayed By: Harry Lloyd )
Hot Take: His evil was comical and not menacing.  It was good that he got exited early.
GOOD BUT NOT GREAT PERFORMANCES
37 . Talisa Maegyr (Portrayed By: Oona Chaplin )
Hot Take:  Sure, she is the descendant of one of the most famous performers ever, but he was famous for silent films.  Oona Chaplin was fine, but nothing special.  She really didn't have a ton to work with…
36 . Daario Naharis (Portrayed By: Michiel Huisman )
Hot Take: I enjoyed his character (he's definitely better than "Francis", who he replaced) but the role is fairly unchallenging.  He is mostly just aping Harrison Ford's Han Solo.
35 . Khal Drogo (Portrayed By: Jason Momoa )
Hot Take: There was a lot of rage and power in his performance, but much of it was accomplished by Momoa being a giant human being.
34 . Bran Stark (Portrayed By: Isaac Hempstead Wright )
Hot Take:  His young performances were passable but I cannot judge his later work because his character speaks in such a monotone.  He may be the next Lawrence Olivier, but who knows?
33 . Tommen Baratheon (Portrayed By: Dean-Charles Chapman )
Hot Take: He does earnest very well, but he doesn't do much more.
32 . Ellaria Sand (Portrayed By: Indira Varma )
Hot Take: She has some fun moments, but her performances tilt toward daytime soap opera quality when she hisses her angry barbs.
31 . Jorah Mormont (Portrayed By: Iain Glen )
Hot Take: Also from the soap opera school of acting, every line is a big moment with him.  It comes off as a little contrived at times.  He might be the best actor in some cheesier genre properties, but this is Game of Thrones!
30 . Robb Stark (Portrayed By: Richard Madden )
Hot Take:  I've seen Richard Madden in other things, and he is entirely adequate there as well.
29 . Theon Greyjoy (Portrayed By: Alfie Allen )
Hot Take:  This one is sort of a split.  When he played Theon, he was really bad at the role.  He was hammy and over the top.  As Reek, he was pretty decent and gets a few points.

28 . Melisandre (Portrayed By: Carice van Houten )
Hot Take:  Talk about a Shatner!  Van Houten is always in overacting mode.  Her saving grace is that she is quite good at overacting.  Small bonus points for the sly humor she sometimes works into her creepy mysticism.
27 . Gilly (Portrayed By: Hannah Murray )
Hot Take:  Hannah Murray is a borderline great performer, especially as Gilly finds her place in the world.  I have really enjoyed seeing the broader Westeros through her Wildling eyes.  With some more advanced plotlines, she would have probably climbed higher.
26 . Jeor Mormont (Portrayed By: James Cosmo )
Hot Take: The late Lord Commander had such gravitas and really came across as a great leader.  That's what he was hired to do.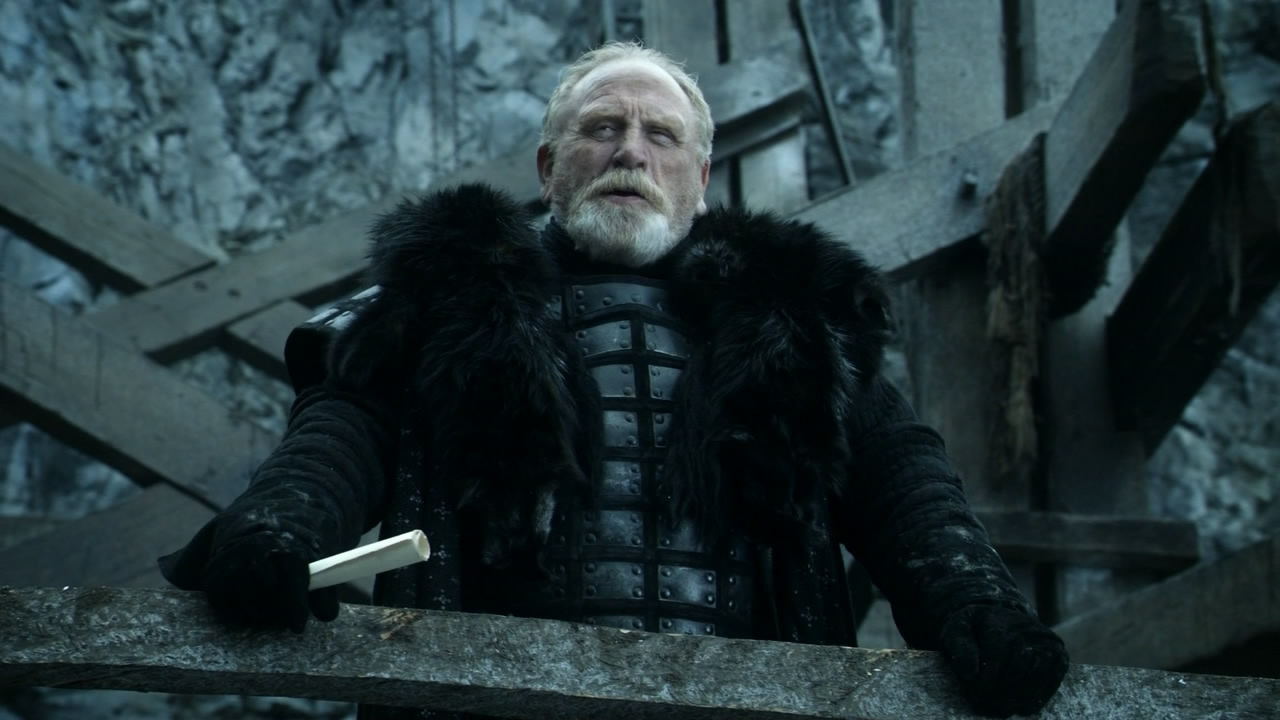 25 . Roose Bolton (Portrayed By: Michael McElhatton )
Hot Take:  He is menacing and powerful, but he is just outside the stronger performances because others do it a little better.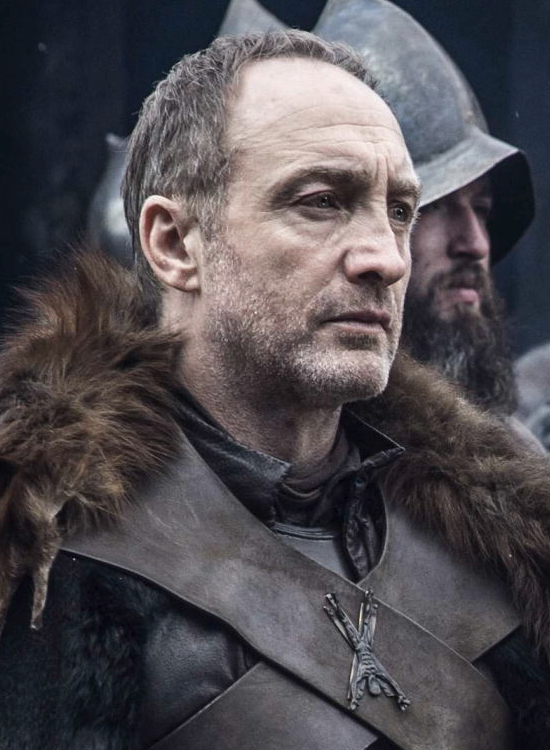 STRONG PERFORMANCES
24 . Joffrey Baratheon (Portrayed By: Jack Gleeson )
Hot Take: By all accounts, he is a sweet guy; but Gleeson made us think he was a monster. He is quitting acting because he said he can never shake this typecasting and doesn't want to embarrass himself…
23 . Missandei (Portrayed By: Nathalie Emmanuel )
Hot Take:  Her role isn't flashy, but she gives a subtle and nuanced performance.  Emmanuel gave a compelling explanation to Davos in Season Seven of why she follows Daenerys that prompted him to ask Jon Snow if it is ok if he switches sides. This was really indicative of her power as an actress.
22 . Margaery Tyrell (Portrayed By: Natalie Dormer )
Hot Take:  Dormer, who has broken out a bit into other roles, is delicious as the decent but scheming Margaery.  She does lose a few spots, however, because she really does have a bit of a Joey Tribanniesque soap opera acting style.
21 . Jon Snow (Portrayed By: Kit Harington )
Hot Take:  What?  One of my favorite characters this low in the list?  He's actually the median entry among the leading stars!  It is because Harrington, while charming, really overacts a lot of scenes. He's a lot of fun to watch, but really… he's the earnest version of Al Pacino.  I am guessing that instead of giving a gasp when he came back to life, he wanted to say "HOO-AH!"
20 . Davos Seaworth (Portrayed By: Liam Cunningham )
Hot Take:  A little bit of an overactor, he is definitely the Dean of the Game of Thrones Shatner school. But like Shatner, it works for the old Onion Knight.  Cunningham excels when he is having Davos deliver a big, convincing speech.  You can sense the honesty and decency pouring into the scene.
19 . Samwell Tarly (Portrayed By: John Bradley )
Hot Take:  As some have embraced the soap opera moments as the series has gone on, Bradley has actually improved as an actor.  His character has gotten more powerful and Bradley rose to the challenge.
18 . Petyr "Littlefinger" Baelish (Portrayed By: Aidan Gillen )
Hot Take:  Gillen is also one of those that embraced the soap opera moments of the show, but damn was he fun to watch.  He is practically a mustache twirling villain, so I almost expected him to tie Sansa to the Kings Road and wait for the invention of the train so he could fully embrace his inner Snidely Whiplash.  He would have been a bit higher, but in Season Seven he was one of the most impacted by the cheesy plotlines, so he fell a bit.
17 . Jaqen H'ghar (Portrayed By: Tom Wlaschiha )
Hot Take:  I know ranking him this high might be personal choice, but man was this guy solid.  He was creepy, mysterious, and still…somehow kind.  Wlaschiha might be done with the series, but he certainly left a mark.
16 . Tormund Giantsbane (Portrayed By: Kristofer Hivju )
Hot Take:  His take on the role isn't flashy.  He doesn't have a lot of big scenes.  But the fact that this brutal killer can drop the marauder's rage and be a loving and caring friend is to the credit of Hivju.  His stalkerish crush on Brienne is just icing on the cake.
15 . Jaime Lannister (Portrayed By: Nikolaj Coster-Waldau )
Hot Take:  Coster-Waldau has been the most improved player over the run of the series.  I found Jamie bland and cartoonish early in the series. His smug and smarmy demeanor was almost a distraction.  But after his time with Brienne, Jamie has been one of the strongest characters thanks to a great performance.
14 . The High Sparrow (Portrayed By: Jonathan Pryce )
Hot Take:  I didn't love the arc itself, but Jonathan Pryce is always amazing.  His humble but conniving take on the religious zealot, who clearly loved the power he had over the powerful, was a nice turn.  If only I hadn't wanted to fast forward through most of his sparrow scenes.
13 . Ramsay Bolton (Portrayed By: Iwan Rheon )
Hot Take:  This is almost where we should start a new level of quality, because Iwan Rheon's psychopathic Ramsey doesn't quite make the Top Ten, but deserves a special nod.  He was funny and creepy at the same time; always on the edge of horrendous violence and cruelty.  The show was that much better for Rheon being in the cast.
12 . Varys (Portrayed By: Conleth Hill )
Hot Take:  Another great performance is that of Conleth Hill as the Master of Whispers.  His reserved and in control performance is a counter balance to a lot of the fiery and over the top performers around him.  What makes him in the upper echelon of performers is his ability to carry on with Tyrion and match wits line for line.  His best scene is when he shows a little of his magic in meeting with an informant in Mereen to learn who is propping up the Sons of the Harpy.  Instead of using threats, he gives the person who can provide him the information her heart's desire.
11 . Brienne of Tarth (Portrayed By: Gwendoline Christie )
Hot Take: Jenny will be upset that Brienne just missed the top ten, but there is no shame for Gwendoline Christie.  Her take on Brienne, looking to find her place in a world not ready for her, is majestic to behold.  She drops a few spots because I have seen Christie in other things, and I think her performance might just be her personality…
GREAT PERFORMANCES
10 . Robert Baratheon (Portrayed By: Mark Addy )
Hot Take:  This guys was a medieval Bill Clinton; subject to his cravings and lusts even when it hurt his governing.  And he was amazing in the role.  I think even with unlimited budget, they couldn't have found someone who could have played Robert any better. His chemistry with Ned Stark was very real and important to the undercurrent of the whole series.   A great scene that captured Mark Addy's brilliance in the role was when he convinced a frazzled Lancel Lannister to go find the "breast plate stretcher" while Ned shook his head at his king's mischief.
9 . Eddard "Ned" Stark (Portrayed By: Sean Bean )
Hot Take:  Speaking of Ned, Sean Bean comes next for much the same reason and because of his ability to display earnestness and nobility in some very small moments.  He was a very proper man and that decency had to be believable to really allow for a payoff when he faced the executioner at the end of Season One.  Bean, who was the big name in the first season, had previously played a lot of bad guys or schemers, so him standing as the show's paragon of virtue was all the more impressive.
8 . Ygritte (Portrayed By: Rose Leslie )
Hot Take: Rose Leslie was a spitfire who owned every scene in which she appeared.  Her folksy wisdom, her teasing nature, and her hilarious disdain for "Southern" progress made her one of the more compelling characters.  I love that they let her die in a tragic manner, that's why we love the show, but boy do I miss her every now and then.
7 . Sandor "The Hound" Clegane (Portrayed By: Rory McCann )
Hot Take:  I love seeing McCann, a veteran character actor, get such a juicy arc.  In the early seasons he was this irritable, immoral killer.  He's still an immoral killer, but because of Arya's influence, and a near death experience, he's become a less irritable, immoral killer.  The transformation Clegane has gone through has been impressive and McCann deserves the credit.  Bonus for his quippy quotes and brilliant use of profanity.
6 . Bronn (Portrayed By: Jerome Flynn )
Hot Take:  Think of a scene Bronn was in that wasn't that much better because he was there.  You can't because such a scene doesn't exist.  He is the Reggie Jackson of Game of Thrones.  He is the straw that stirs the drink.  I have way too many Bronn references to pick a favorite, but his scene with Tyrion when he declines to fight the Mountain in Tyrion's trial by combat was spectacular.  Of all the people who interact with the amazing Peter Dinklage, Jerome Flynn probably had the best chemistry.  I hope you get your FOOKIN' castle, Lord Bronn of the Blackwater…
THE BEST OF THE BEST
5 . Arya Stark (Portrayed By: Maisie Williams )
Hot Take:  Now we get into the truly special performances.  First up is Maisie Williams' performance as Arya Stark.  You know how Harry Potter got so lucky that three kids they cast as the main characters grew up to be really strong dramatic actors as adults? It made their later films truly special as a result.  Game of Thrones got that lucky with Williams.  She was a precocious child actress when cast at 13, but man has she grown into a role that would have been tough to sell with a lesser talent.  Because of Williams' acting abilities, Arya became a truly special piece of the show… and television history.
4 . Cersei Lannister (Portrayed By: Lena Headey )
Hot Take:  Headey, who was in quite a few decent roles before this, has made Cersei the real villain of the series.  That is impressive given how many awful and evil monsters have sauntered on stage in seven seasons.  Most impressive is that Cersei, unlike just about everyone else, didn't wield a sword or command an army much of the run. She came to power through wit and steely resolve.  Headey made you believe that a woman who had been subjected to the whims of men her whole life had it in her to blow up the seat of all Westerosi religion and wipe out her enemies.
3 . Tyrion Lannister (Portrayed By: Peter Dinklage )
Hot Take:  What?  The great Tyrion Lannister, as played by the amazing Peter Dinklage is not the top performer?  There are two ahead of him but this is no knock on Dinklage.  He has won three Emmys for a reason.  His devious and cunning playing of the Game is one of the more important aspects of the show.  Dinklage is amazing because while he can be funny and lecherous one minute (think his musings on wine and women), and he can easily bring high drama in the next scene (think his angry condemnation of Tywin at his trial).  Impressive stuff!  Speaking of Tywin…
2 . Tywin Lannister (Portrayed By: Charles Dance )
Hot Take:  Charles Dance's Tywin Lannister is a caged tiger.  He is so menacing and in control in every scene that you could actually believe this would be a guy who would send the most powerful man in Westeros (Joffrey) to bed without dinner.  Charles is indeed In Charge!  The best scenes with Dance are the ones that showed a personal side.  While he was destroying the country, he still made the time to bond with Arya who was hiding right under his nose.  Their back and forth showed he knew something was up with her, but game respects game.
1 . Stannis Baratheon (Portrayed By: Stephen Dillane )
Hot Take: So the top prize goes to Stephen Dillane's Stannis Baratheon.  What? Stannis? He's the lame character that has no personality, you say? That's right. And that's why Stephen Dillane's performance is so amazing. He takes a dud and makes him a so much fun to watch. I get Stannis's motivation through Dillane (who played a polar opposite Thomas Jefferson in HBO's John Adams) in a way even multiple 1000 page books couldn't convey. Excellent in every moment….all the way up to the end when his last words are for Brienne to "go on…do your duty" as she executes him!