Watson's Fifty Favorite Songs of All-Time
Back in the day, there was no more vulnerable of a time than when someone was looking through your CD case.
You knew that they were judging you based solely on the contents of those plastic sheets, in over-sized binders.  Would your tastes be good enough?  Would you be disqualified as a friend or lover because you had one too many candy pop CDs? It was brutal!
Well, here we are.
The modern equivalent of letting you look through my CD case by counting down my Top 50 songs of all-time.
As hard as my Top 25 movies list was, this one was MUCH harder!  Not only is it tough to compare your love for songs, but I also have great tastes in movies.
My taste in music has always been a little suspect… so be gentle…
One's list of favorite songs is very fluid. Mood changes can alter a song 20 spots in a single moment.
Plus, your love of music is very personal and impacted by memories in your life.  Hearing a certain song, at a certain perfect moment can etch it in your memory and preserve a special place for it in your hear forever.
For instance, songs that were on the old jukebox my parents had in our house from my elementary school days through college have a MUCH higher chance of making this list than any other grouping of songs.
Now, I am not saying these songs are better.  This list is not about the "greatest" songs of all-time, but rather my own personal favorite songs.
Because let's face it… I do not think any song by the BareNaked Ladies,one of which makes the list, is better than The Beatles' Let It Be, which just missed the Top 50. But I like it more. No apologies offered for that choice.
On this list, multiple songs are allowed by a single artist.  A couple of acts are well represented in this Top 50.  I didn't just want to have one song to represent a single act to make room in the list.
This was a painful process because I had to decide if I bumped my favorite song from one artist to add the second or third best cut from another artist.
I also didn't cop out and put in a guaranteed spot for a song just because it was my favorite Christmas, Gospel, or Showtune song.  No Christmas songs (my favorite is O Holy Night) or Gospel hymns (love me some Amazing Grace) made the cut.  Only ONE showtune made the top fifty despite the fact that I give more than regards to Broadway.  You have to earn a spot on this list!
So before we begin, let me just admit to my buddy Ryan that, though they rock, no Gin Blossoms' song made the list.
I couldn't believe it either.
Ok…here we go!
Number 50
Where I Find My Heaven- Gigolo Aunts
Why I Love It: I love the movie Dumb & Dumberer, but as much as the movie cracks me up, it is not Oscar bait. But the soundtrack for the film ranks up there with Grease or Saturday Night Fever in the all-time greats.  First among the songs on it is this sweet 90s alt-rock anthem.
Number 49
Thank God I'm a Country Boy- John Denver
Why I Love It: "That John Denver was full of shit!" Two songs in and we have our second Dumb and Dumber connection.  I think the ties to the Farrell Brothers end here, but I still love this amazing song.  Despite now being a hippie, bearded, liberal douche who lives in Austin, I am from a red dirt road in the farm country of South Alabama.  This song takes me back to my roots.
Number 48
It Was a Good Day- Ice C
ube
Why I Love It: This song does NOT take me back to my roots…though the streets of upper middle class, Houston suburbia could be treacherous.  Still, I somehow connect with this song and love everything about it.  F. Gary Grey's masterpiece might be the finest, most cinematic music video ever.
Number 47
Gangsta of Love- Geto Boys
Why I Love It: This is one of those songs that connects me to a certain place and time.  I remember discovering this song in the 90s and listening to it on my yellow Sony Walkman at speech tournaments.  Though they were pretty filthy, the Boys did preach safe sex; recommending that you wrap your "jimmy hat before you stick it."  Indeed…
Number 46
I Wouldn't Have Missed It For the World- Ronnie Milsap
Why I Love It: Another throwback to 80s country.  That Urban Cowboy era country really bridges the early years of my life.
Number 45
Let's Get It On- Marvin Gaye
Why I Love It: Marvin Gaye is smooth as hell.  He has several great songs, but this one ranks among my favorites. Bonus points for his rendition of the National Anthem at the 1983 NBA All-Star game in LA.
Number 44
Bitter Sweet Symphony- The Verve
Why I Love It: This song reminds me of driving down the road on a sunny day when I was in law school in Lubbock, TX.  It is both relaxing and little depressing.  That symphonic opening rift is about as good as they come.
Number 43
The Road Goes On Forever- Robert Earl Keen
Why I Love It: Keen is a master story teller.  Narrative songs can be tricky, but Keen does it well and still delivers an amazing chorus that people at honky tonks can croon along with.
Number 42
Patience- Guns N' Roses
Why I Love It: Several GnR songs make it on this list and so many more that were under consideration.  Patience is a great acoustic rift with some first rate whistling.
Number 41
Brown Eyed Girl- Van Morrison
Why I Love It: Hey where DID we go?  Good question.  I'm still looking. This song is such a joy.  It is simple, catchy, and fun.  When it comes on, no matter where you are or what you are doing, you are very likely going to be smiling.
Number 40
One Week- Barenaked Ladies
Why I Love It: A pop culture classic.  It mentions Aquaman, X-Files, Sting's sexual fetishes, Harrison Ford, Kuroswa, and Sailermoon.  It also has the best line in the history of song writing… "Chickity China the Chinese chicken".
As true today, as when it was written…
Number 39
He Stopped Loving Her Today- George Jones
Why I Love It: So, I mentioned above that there was a much better chance of making this list if your song was on one of those 45rpm records in my parents' jukebox.  This one was there from the beginning.  George captures desperate love and sadness which only death can end with his soulful and raspy voice.
Number 38
At Last – Etta James
Why I Love It: This is a song that makes you want to be in love at the very moment it begins to play.  James' power and elegance is matched by a beautiful accompaniment.
Number 37
Always on My Mind – Willie Nelson
Why I Love It: We have all had those relationships that didn't work out, but which we really wished would have.  This masterpiece by the Red Headed Stranger speaks truth to that power.  The regret he conveys in the line "Little things I should have said and done.  I just never took the time" will haunt you when you think what might have been.
Number 36
Can't Help Falling in Love – Elvis Presley
Why I Love It: Elvis is one of those "desert island" artists because so many of his songs like Burning Love or Viva Las Vegas could have made the cut. But this classic, and several covers done over the years, stands out as his best work.
Number 35
I Guess That's Why They Call It the Blues – Elton John
Why I Love It: I was on a guy's trip to Vegas and tried to get the fellows to see Elton, but was shouted down.  I should have just said screw you guys and gone.  I love Elton John and don't care who knows it. This is one of his best songs.
Number 34
I Would Walk (500 Miles) – The Proclaimers
Why I Love It: This song hit it big the summer I graduated High School.  Summer songs always have a special place in general, but this earworm has a special place in my heart because it takes me back to the days when I was first tasting the freedom that would come with college.
Number 33
Talk Dirty to Me – Poison
Why I Love It: I always liked this song, but I didn't love it until it was used so elegantly on the show Scrubs.  A bawdy, fun song became a sad ballad.
 Number 32
Theme from "The Greatest American Hero" – Joey Scarbury
Why I Love It: Family Guy once marveled that this show remained popular for a very long time despite being on the air for a short period of time. This song was why.  It was the perfect 80s TV theme song.
Number 31
Sweet Emotion – Aerosmith
Why I Love It: I love Aerosmith.  Another desert island act.  The band's harmony at the open of this song is about as good as it gets.  This is the most played song in the classic rock genre for a reason.
Number 30
Lose Yourself – Eminem
Why I Love It: This Eminem anthem is probably the most worthy winner of the Best Song Oscar ever.  Before you even watch the movie, you know the exactly MOOD of the film and what it's all about.  I use this song at the beginning of exercise because it really gets you going…and that helps because I really HATE exercise.
Number 29
I Melt With You – Modern English
Why I Love It: This is a song that holds up well over time.  It was great when I was a teen.  It was great when my kids first heard it when they were little.  It is great now that my KIDS are teens. Because this song is a classic.
Number 28
Billie Jean – Michael Jackson
Why I Love It: I really don't like Michael Jackson personally.  It felt like we gave him a pass on some awful behavior because of his musical greatness. But I cannot deny this song. It is pure magic and this video made MTV a phenomenon.
Number 27
Give a Little Bit – Supertramp
Why I Love It: So…much…fun.  This is the soundtrack for me sitting on the back porch, drinking wine, and grilling steaks.
Number 26
Mountain Music – Alabama
Why I Love It: This is another Juke Box classic, and it is a song from the band named after my home state.  This entry, and really all Alabama songs, reminds me of my early childhood.  When I took my kids to see them in concert last year, it was pure nostalgia.
THE TOP 25
Number 25
Stayin' Alive – Bee Gees
Why I Love It: Well you CAN tell by the way I use my walk, I am a woman's man.  I couldn't hide that if I tried.  Disco may have been evil, but this song was the best kind of evil!
Number 24
My Shot – Hamilton
Why I Love It: I love theater. I love showtunes.  But this is the only entry in the top 50.  It is that great.  I remember watching this way-hyped musical last year and thought it was pretty good good in the first couple of numbers, but was still wondering if it could live up to the Ryan Garcia hype.  Then came My Shot.  My jaw dropped and never closed until I went to sleep that night.  I still freaking hate Ryan Garcia.
Number 23
Welcome to the Jungle – Guns N Roses
Why I Love It: This is a double threat:  a GnR song AND it was added to our jukebox in the great restocking of the late 80s.  This song is absolutely wild. Another pump song.
Number 22
Twist and Shout – The Beatles
Why I Love It: Like a lot of people my age, I first fell in love with the Beatles, my ultimate desert island band, with this song because of the movie, Ferris Bueller.  Ahhhhhhhhhhh……ahhhhhhhhhh….ahhhhhhhh!!!!!
Number 21
Superstition – Stevie Wonder
Why I Love It: I love Stevie Wonder. So many great songs.  But this one is by far my favorite.  Steve gets funky.
Number 20
Pour Some Sugar on Me – Def Leppard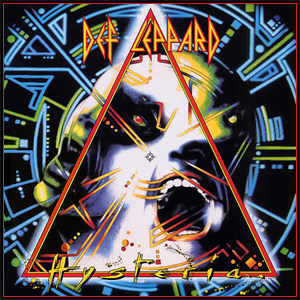 Why I Love It: I am not sure why this hairband staple resonates with me, but it does.  It reminds me of the summer I moved from Alabama to Texas and because of that, I will always think of that time as a period that rawked.  As the show My Name Is Earl taught us, you can punctuate any insult by saying "And you can pour some sugar on THAT!"
Number 19
Once In a Lifetime – Talking Heads
Why I Love It: Who hasn't asked themselves "How did I get here?"  This song gets deeper and more personal the older I get.  You live your life.  You make new experiences.
But it is always the same as it ever was.
Number 18
You Give Love a Bad Name – Bon Jovi
Why I Love It: Bon Jovi…a minor league entry into the desert island list. I could live with their catalog, but it falls behind acts like the Beatles or Aerosmith.  But this song can hold its head up high as pure, fun hair metal.
Number 17
Wrapped Around Your Finger – The Police
Why I Love It: This song makes this list for one paragraph alone.  The whole song, Sting proclaims he'll be wrapped around her finger; totally beholden to her. But at the end, he lets his lover know "I will turn your face to alabaster.  When you'll find your servant is your master."
Flipped it on you!
Number 16
Poison – Alice Cooper
Why I Love It: This one will surprise you, but it is an entry that connects to some influential, teenage memories. My first ever high school speech tournament, at Kingwood High School, I was really nervous before my first round.  I had just bought this Alice Cooper cassette single and listened to it right before my first round.  It calmed me down and got me pumped at the same time.  Such a weird combination. I went on to make finals in the tournament and used it since then to get ready for a big moment.  It is on my iPhone today in case I have a big meeting or presentation at work.
Number 15
With or Without You – U2
Why I Love It: I love U2, finally seeing them in concert last year with my best pal, Dom.  This song is my favorite of an amazing catalog that includes Where the Streets Have No Names, Pride (In the Name of Love), and I Still Haven't Found What I am Looking For.
Number 14
Every Breath You Take – The Police
Why I Love It: This is one of the most played songs in the history of radio for a reason.  It is both romantically sweet and obsessively creepy.  In the era of Weinstein, we might have something to say about creepy, ol' Sting's harrasment of his muse, but it was a simpler time.
Number 13
Bohemian Rhapsody – Queen
Why I Love It: Yeah.  If you were an American male, born between 1965 and 1985, there is zero chance that you will not headbang when the song goes into that classic drum and guitar rift.  Thank you, Wayne's World, for introducing this classic song to a new generation.  It was so popular that it charted higher in the 90s than it did when originally released in the 70s.
Number 12
Like a Rolling Stone – Bob Dylan
Why I Love It: I will forgive Dylan for performing in one of the most disappointing concerts I have ever seen. He's not so much a live performer as he is a poet.  Though I wasn't born until the 1970s, this song really captures the 60s for me.  How sad is the line, "Ah you never turned around to see the frowns, on the jugglers and the clowns when they all did tricks for you"?
Number 11
You Never Even Call Me By My Name – David Allen Coe
Why I Love It: Like Alice Cooper's Poison, I also use this song to calm down.  Because you cannot be stressed listening to THE greatest country song of all time.  You don't have to take my list's word for it.  It says it right there in the lyrics.
And you know what passage pushes it past the line?  "Well, I was drunk the day my mom got out of prison…And I went to pick her up in the rain…but before I could get to the station in my pickup truck…she got run over by a damned old train."
Shakespeare can suck it. David Allen Coe is the greatest bard of the English language.
TOP TEN
Number 10
You Shook Me All Night Long – AC/DC
Why I Love It: A total PUMP song.  I love AC/DC and this is their best song. One of the best opening rifts ever, and it keeps going from there.  We are into the Top Ten, so all classics from here on out.
Oddly, I prefer the version from their classic live album to the still-very-classic original radio version.
Number 9
Smells Like Teen Spirit – Nirvana
Why I Love It: If Seinfeld is the TV show that epitomizes the "not quite sure what the vibe was" decade of the 90s, then this grunge classic was the theme song.
I remember when this song first came out, it just hammered everyone.  It changed rock and roll, and shifted our attention to the Pacific Northwest.  I feel like going in my room and changing into flannel.
Number 8
With a Little Help From My Friends – The Beatles
Why I Love It: My favorite Stooge is Larry.
My favorite popsicle flavor is orange.
My favorite Beatles song is sung by Ringo.
Sgt Peppers Lonely Hearts Club band is the perfect album and this song is my jam. Nothing better than listening to this songs with the family you chose.
Number 7
What It Takes – Aerosmith
Why I Love It:  I am not sure this is many people's favorite Aerosmith song, but it sure is mine. I have no idea why, either.  I just love it.  Steven Tyler's screams are punctuation to some great lyrics and amazing Joe Perry guitar work.
As an aside, me, my friends Scot, Tiffanie, and Prieta were in an Aerosmith video for their minor hit, Blind Man.  The band filmed the concert portion of the video in Houston, and me and Scot stand out way in the background because in a sea of black t-shirts, we were rocking yuppy, white polos…
Number 6
Sad Songs (Say So Much) – Elton John
Why I Love It: This song was big the summer of 1984.  I remember waiting for hours for it to come on the radio as we drove between Mobile, Al and Providence, RI; where we spent an amazing summer.  This is almost a perfect song because it is both peppy and sad.  You can listen to it no matter how you feel!
Number 5
Great Balls of Fire – Jerry Lee Lewis
Why I Love It: The greatest piano song ever.  That solo in the middle of the song is about as raw and powerful as it gets.  If it comes on in the car, you can bet I am playing air keyboard. I don't even care if I get busted at the stoplight.
Number 4
Purple Rain – Prince
Why I Love It: The moodiest song ever.  Prince had a certain sense of mystery and intensity.  This is his masterpiece.
Michael Jackson paid Prince the ultimate compliment just before he died.  The King of Pop justified his use of pills to stay awake for days because he thought if he slept, God would give his ideas to Prince.
Michael Jackson must have been sleeping the day Prince got the idea for this classic, because it is better than Michael's full catalog combined.
Number 3
Under Pressure – David Bowie/Queen
Why I Love It: There is nothing more awful than turning on the radio, hearing that sweet opening, thinking David and Freddie are about to rock you… only to discover it is Vanilla Ice's Ice, Ice Baby.
Its devastating.
This amazing song combines two of the greatest performers in in pop/rock history.  Bowie has all that soul and quirkiness, while Freddie Mercury makes Mic Jagger settle for second in the all-time great rock frontmen debate.
Number 2
Sweet Home Alabama – Lynyrd Skynyrd
Why I Love It:  Look…I know everyone loves this song.  It is all-world.
But no one loves this song like someone from Alabama.
In my mid-30s, I was at a family reunion in Mobile and when this song came on over our speakers, the energy became electric. Turn it up!
Number 1
How could something beat Purple Rain, Under Pressure, and even the anthem of my homeland, Sweet Home Alabama?
I had to think about what else went into the top ten.  Those decision were tough.
But I have known what my favorite song was for nearly three decades. With great certainty.
Not even a doubt about.
So, here we go.
Cue that opening guitar rift, which is the greatest combination of sounds in all of the history of music; going all the way back to when Thrag the Movie One-Eyed Caveman invented humming.
So…amazing…
Sweet Child O Mine – Guns N Roses
Why I Love It: Slash is the greatest guitarist ever. I don't care what you say about Jimmy Hendrix, Eric Clapton, Eddie Van Halen, or anyone else.  It is all about that Slash!
The song opens with a beautiful rift and gets crazy again with a big solo in the middle. I think those two pieces are the #1 and #2 in my list of the best guitar work.
Sweet Child O Mine is also Axl Rose at his absolute prime. We are lucky to get him between the time he had kicked the heroin that fueled this amazing album and the time where he got back on the heroin and fell apart.
There have been several beautiful songs over the years, but nothing compares to this all-time rock classic.
Best song ever…
Not even close…