It's still John C. Reilly Week here at Gabbing Geek.  Let's take a look at Walk Hard: The Dewey Cox Story.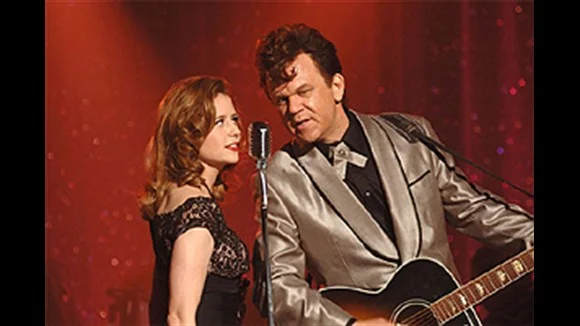 The John C. Reilly Factor
Reilly has long been considered a good supporting actor, not the guy in the lead role.  He's lent strong support to roles in dramas and comedies, and the guy gets around.  What he doesn't get too often is the lead role, but here he is doing so in Walk Hard: The Dewey Cox Story.
Reilly plays Dewey Cox, a farm kid who grew up through a miserable childhood to become a famous rock'n'roller.  An accident while playing with machetes in the family barn cut Dewey's talented brother Nate in half and somehow cost Dewey his sense of smell.  From there, Dewey has had to listen to his cranky farmer father insist at every meeting that the wrong kid died.
The movie plays all the cliches from the musical biopic for laughs.  Dewey's father doesn't believe in him, nor does his first wife.  Added humor is given to the obviously forty something Reilly playing Dewey at age 14 (the movie explicitly refers to Dewey at that age to hammer that home).  As time passes, Dewey hits all the moments that have become expected for a movie like this, such as the ugly divorce and second marriage, though not necessarily in that order.  Dewey's ever-changing song style leads to numerous #1 hits (the original songs are actually rather good), and Reilly gamely goes through the motions of the struggling musician whose haunted by a dead brother and an unaffectionate father, and who has a habit of ripping sinks out of bathrooms when he hits a low point.
The movie itself starts off strong, and the comedy all-star cast is apparently up for anything.  That said, I think the movie ran a bit too long.  The premise got a bit old.  The movie's best moments came in early on when the main source for parody was the Johnny Cash biopic Walk the Line with a touch of Ray.  After that, the movie starts to lose steam and goes on to more like random stuff headed for the ending.  Seven and a half Reillys out of ten.
But if you ever wanted to see John C. Reilly flip over a car while dressed in a sumo thong, this movie is for you.